The Utah State University Bingham Entrepreneurship and Energy Center – Vernal, Utah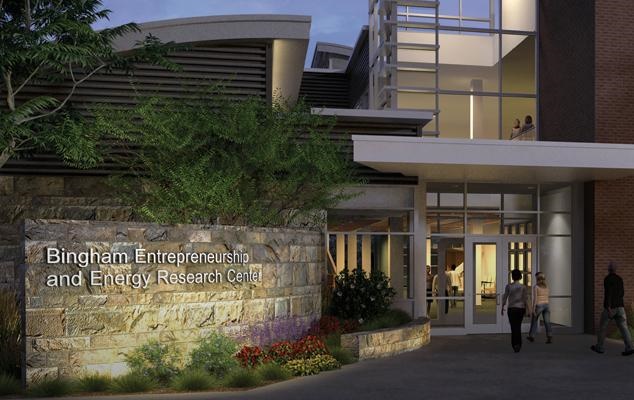 Utah State University's 75,000-square-foot Bingham Entrepreneurship and Energy Research Center is a state-of-the-art, high-tech educational facility in Vernal, Utah, where students are trained in business, entrepreneurship, accounting, education, engineering, wildlife science, water management, social work, natural resources, environmental policy, and other fields at the undergraduate and graduate levels. The Bingham Center brings together USU scientists and researchers, county leaders, state and federal authorities, and industry partners to create innovative best practices in education, resource development, economic growth, and environmental stewardship.
The Bingham Center boasts 21 state-of-the-art distance education classrooms and 13 laboratories (6 teaching, 7 research). The building is also home to USU student support services and an entrepreneurship wing that provides incubation services for local innovators.
"The Bingham Center allows Utah State to aggressively and strategically pursue its research interests and opportunities in areas of the state where vast energy resources and new business opportunities exist," said USU President Stan L. Albrecht.
In fall 2007, Utah entrepreneurs and business leaders Marc and Debbie Bingham donated $15 million for building construction.
"When President Albrecht and I discussed USU's need and goals, I knew what I wanted to do," said Marc Bingham. "I saw the opportunity to provide the people of the Basin something that could make their home one of the greatest places on Earth to live and to raise a family. I knew that it was my chance to achieve one of my lifelong goals, that of giving back to my community what my community has given me: opportunity."
The Bingham Center, located at 320 North Aggie Boulevard, Vernal, Utah, was dedicated on September 24, 2010.
Roots of Knowledge: A Window into the History of Human Intelligence

Utah Valley University (UVU) has witnessed substantial growth since its modest start 75 years ago. What began as a vocational school during World War II is today the largest university in the state. To coincide with its 75th anniversary in November 2016, UVU unveiled an ambitious public art project of extraordinary proportions: Roots of Knowledge.
Funded by a donation from Marc C and Deborah H Bingham, the bold and large-scale permanent installation taps the ancient storytelling art form of stained glass, while uniquely adapting it for a modern, secular setting. Exploring the evolution of knowledge through this historic medium has provided UVU a palette to create both a singular artistic landmark and powerfully embody the university's unique commitment to engaged learning. Roots of Knowledge anchors an undulating wall of windows in UVU's Bingham Gallery, comprising 80 individual panes totaling 10 feet in height and 200 feet in length.
A fusion of art, education, and public space, Roots of Knowledge starts with the dawn of humanity and ends with the present day. The series of stained-glass windows chronicles the human quest for intellectual advancement and progress. The panes are vibrantly colored glass paintings and interpretations of world history, including major inventions such as the Mayan Calendar and the printing press; important figures such as Joan of Arc and the Kangxi Emperor; major world events, such as Scotland's Declaration of Arbroath and the American Civil Rights Movement; and thousands of other historical figures, tools, and events. Altogether, Roots of Knowledge incorporates thousands of pieces of glass, as well as actual rock, fossils, coins, meteorite, petrified wood, and coral.
Conceived by Utah artist Tom Holdman and former Utah Valley University President Matthew Holland, Roots of Knowledge combines the work, guidance, and study of 40+ professional artists, 26 UVU scholars and hundreds of UVU students. Roots of Knowledge was unveiled as a permanent Nov. 18, 2016. The project was made possible through a generous donation by the Bingham's, with design and production work by Holdman Studios. The west-facing window wall is lit by natural light, and the gallery has become a space for ongoing university events and thought leadership, where the arts and education can flourish.
The Butterfly Biosphere at Thanksgiving Point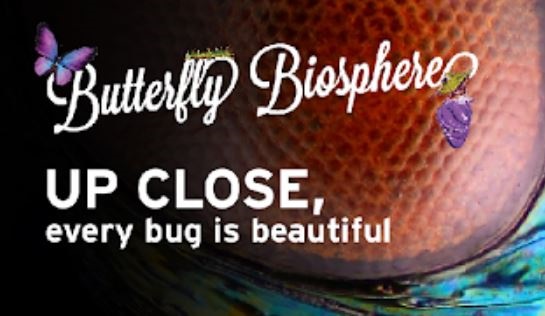 The Butterfly Biosphere at Thanksgiving Point's Water Tower Plaza is an experience unlike anything in the state of Utah! This 40,000 square foot venue is home to over a thousand butterflies from around the globe. In addition to dozens of species of butterflies, it also has 20 species of tarantulas, beetles as big as your fist, and many more creepy crawly friends.

A major donation by the Bingham's made this world class Biosphere possible to be enjoyed by everyone. Now students, families, and other frequent this center throughout the week thanks to the Bingham's.
The Deseret News reported that: "One of the Thanksgiving Point founders, Karen Ashton, dubbed the event held at the nonprofit's Water Tower Plaza on Monday as a "sky-breaking," rather than a groundbreaking, for its newest and fifth family venue.
As butterflies left their paper envelopes and took off to the skies, school children and adults, including Governor Gary Herbert, gasped at their fluttery, ethereal beauty, and the Butterfly Biosphere project was officially on its way to becoming a reality in fall 2018.
Herbert said the work of Thanksgiving Point is positive and uplifting, and this is a good example of a working partnership.
Lehi Mayor Bert Wilson said the vision of Thanksgiving Point is literally coming to life.
Debbie Bingham, who with her husband is also a donor, said the butterfly biosphere will be a world-class venue, one that schoolchildren will love and enjoy for years to come. She noted that children from Wasatch Peak Academy helped design the biosphere by offering their ideas and suggestions." Deseret News, 9/11/2017